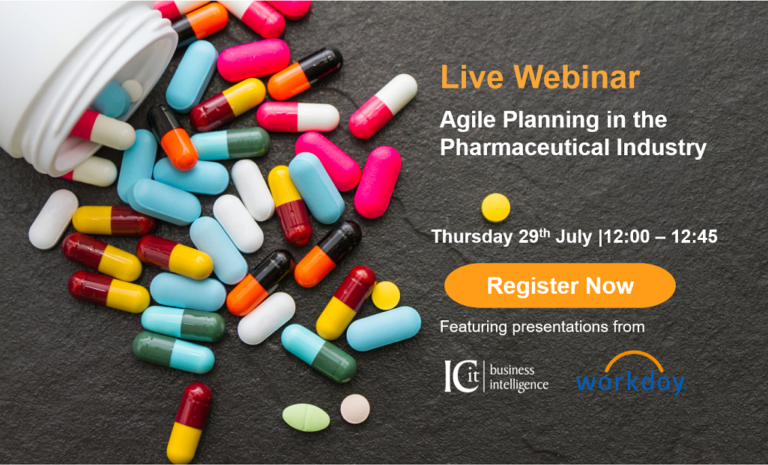 Agile Planning in the Pharmaceutical Industry
Date: Thursday 29 July, 12:00 – 12:45
In today's changing world, pharmaceutical and biotechnology organisations must be prepared to respond and adapt quickly amid ongoing uncertainty.  From raising capital, addressing pricing pressures to prioritising development efforts and managing third-party risks, the landscape of finance is changing. ​
So how can finance leaders feel confident in their plans when change is the only constant?  The key to thriving is business agility. ​
​Our live webinar will demonstrate how finance teams harness the power of Workday Adaptive Planning, a powerful, flexible enterprise planning platform. Spend 45 minutes with us to understand how organisations like yours have replaced one-off annual plans with agile forecasts and timely data, so your finance team can sharpen insight, reduce risk, and operate with agility. ​
We will share how our Pharmaceutical and Biotechnology customers utilise Workday Adaptive Planning to: ​
​Quickly update and analyse their forecasts when project timelines change ​
Allocate personnel and non-payroll costs and revenue to projects for reporting and analysis ​
Model multiple scenarios of potential changes and quickly execute on outcomes ​
Automate monthly variance reporting, board packs, external reporting, and collaboration partnership reporting ​
We'll present some case-studies, the value they bring to our customers and share how they were able to migrate from a broken spreadsheet planning environment to a robust real-time planning platform. ​
​Agenda ​
12.00 –12.10: Workday Introduction
12.10 – 12.30: Product Demonstration of Workday Adaptive Planning for Pharma and Biotech Companies​
12.30 – 12.40: Customer Spotlight on Pharma and Biotech Organisations​
12.40 – 12.45: Q & A ​
Can't make this date?
If you are interested in this webinar but can't make the date, please contact us for a demonstration that is personalised to your business needs and begin your journey to modernising your planning, budgeting and forecasting to make better decisions, faster. Contact us