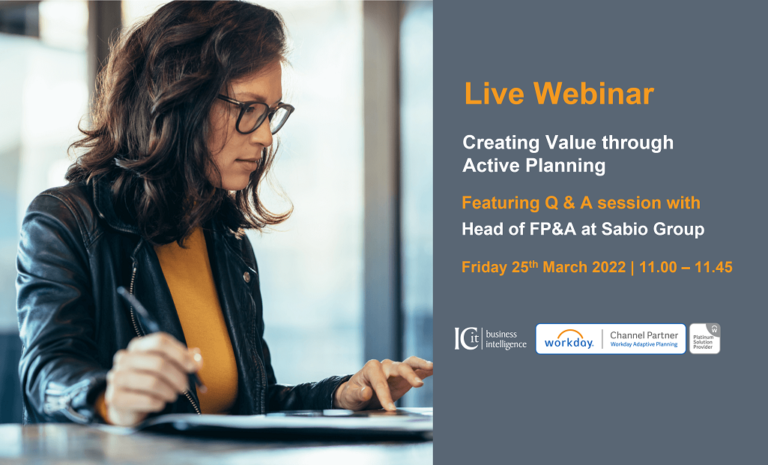 Creating Value Through Active Planning: A Success Story from Sabio
Date: Friday 25 March 2022, 11:00 – 11:45
Budgeting and Forecasting is an essential component of business success.  Is your process agile enough to quickly adapt to change? ​ Join us to hear how Sabio Group have transformed their business through active planning.
​If you continue to struggle with spreadsheet-based solutions, join our webinar to discover how thousands of companies worldwide are working smarter not harder – by reducing the time spent on the planning process and more time on analysis and providing decision support.​
​We will demonstrate how you can  :-​
​Take weeks out of your planning cycles (30%-50% reduction)​
Devolve the planning process using a central cloud-based solution​
Have instant access to actual, budget and forecasts, reconciled and trusted data​
​"The team at ICit, along with their Workday project management expertise, provided the knowledge and fast-turnaround that we needed to support our business, particularly at this time as we continue our rapid expansion across Europe."
Sabio Group
​Agenda ​
11.00 – 11.10: Why planning agility delivers competitive advantage
11.10 – 11.30: Workday Adaptive Planning agility in action
11.30 – 11.45: Live Q & A with Victor Richardson, Head of FP&A at Sabio Group
Can't make this date? ​
If you are interested in this webinar but can't make the date, please contact us for a demonstration that is personalised to your business needs and begin your journey to modernising your planning, budgeting and forecasting to make better decisions, faster. Contact Us>