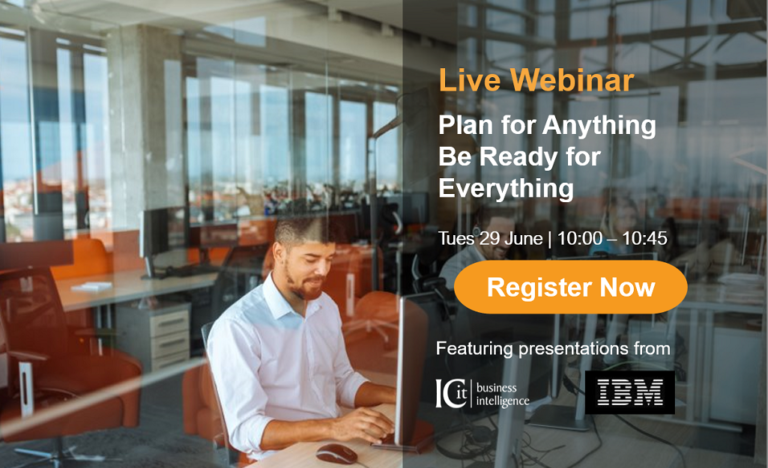 Plan for Anything, Be Ready for Everything​
Date: Tuesday 29 June, 10:00 – 10:45 AM
​Integrated business planning is the key to enterprise performance management.  However, many businesses are still reliant on departmental spreadsheet solutions, inefficient planning processes and a lack of effective collaboration – leading to misunderstandings and sub optimal resource allocation.  The good news is that there is a better way to plan, measure and report business performance using modern cloud based software solutions from IBM.
​Register for our upcoming webinar to learn how thousands of businesses are embracing digital transformation by implementing IBM Planning Analytics – plan for anything, be ready for everything.​
​Who is this webinar for?​
All Senior Finance, Operations, Sales, Marketing and HR Professionals responsible for 'Planning' in your business.  Learn how adopting a cloud planning platform can increase collaboration, efficiency and reduce reliance on spreadsheets.​
​Agenda   ​
10:00 – Introduction – What is Integrated Planning?
10:10 – L'Oreal Case Study –  AI-powered business analytics​
10:15 – Demonstration – Integrated Planning in Finance, HR and Supply Chain​
10:40 – Q&A
Can't make this date? ​
If you are interested in this webinar but can't make the date, please contact us for a demonstration that is personalised to your business needs and begin your journey to modernising your planning, budgeting and forecasting to make better decisions, faster. Contact Us